Hoi An Banh Mi Delight
Banh Mi is one of the world's greatest street foods. The BBC termed it "a pretty magical sandwich". While traveling through the ancient town of Hoi An, we followed the crowds to the city's most famous Banh Mi shops. A sandwich experience
My teeth bite through the crispy crust to the fluffy and floury inside of baguette. Next is the herbs and salad, and then onto the pork while the Umami sauce that stirs my taste buds. The bite is an endless delight. How can a humble sandwich be this heavenly?
Of course the sandwich I am talking about Banh Mi (Bánh mì), one of the kings of the sandwich universe (the BBC has called it the world's best sandwich). And what royal sandwich I am devouring! I want to cry out. I barely manage to hold it back. So I suck in the joy and take another bite. And another one.
The banh mi queen
Where did we eat this king of a sandwich? At Bánh Mì Khánh, whose chef markets herself as the Banh Mi Queen of Hoi An. And while we did not see Queen Khánh, her restaurant is still doing a great job even without her as the chef. Their banh mis were so addictive, that during our stay in Hoi An we made several trips to Bánh Mì Khánh just outside the hustle and bustle of the ancient town.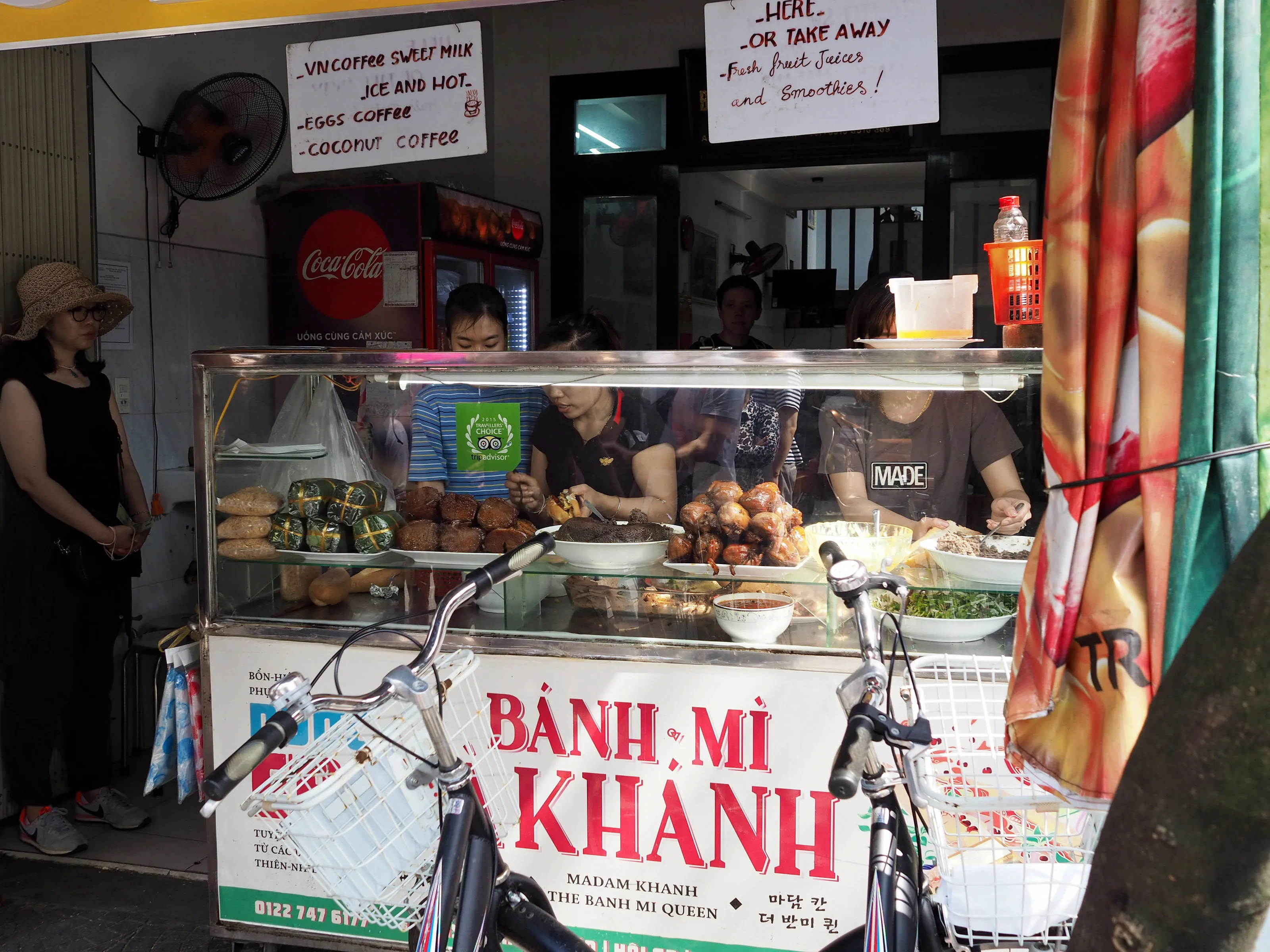 Dispelling the doubts
Before we came to Hoi An, the first place in Vietnam I visited, I have to say that I was not fully convinced of the hype around banh mi. If things get hyped that much, the real thing is usually a bit of a disappointment. Plus, I had a lackluster experience with Banh Mi during our stay in Belleville, Paris (read the food stories from our trip to Paris here), where we had a sad, tasteless, and expensive banh mi.
Once, when we were waiting for our flights out of LAX, Los Angeles' International Airport, Ana suggested we try ink.sack, Top Chef winner Michael Voltaggio's sandwich joint, where we indulged in $12 pork belly banh mis. They were great, but I wrote them off as haut cuisine sandwiches - a one time treat. I mean, if you charge $12 for a sandwich, it better be good.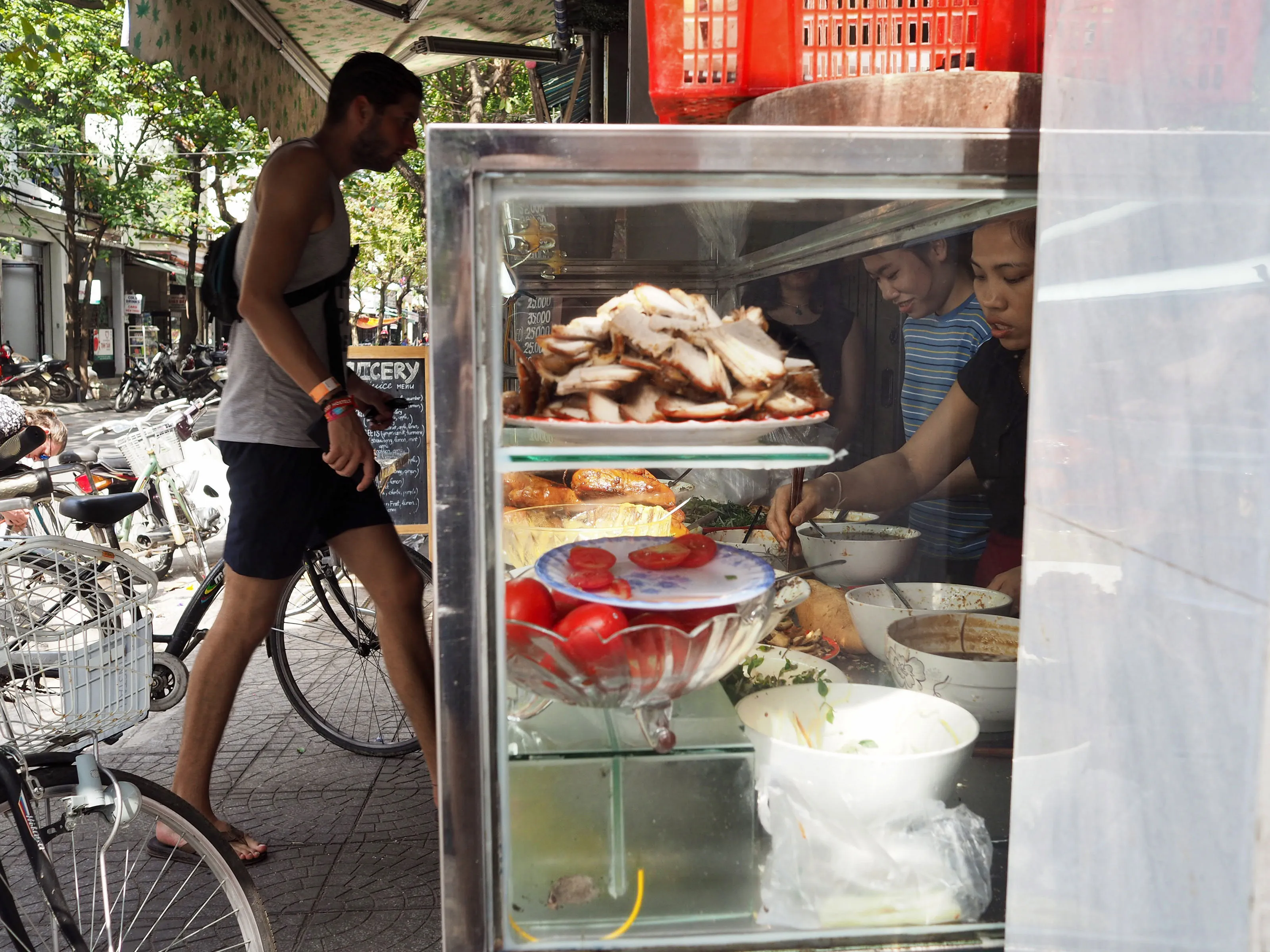 This was different. The banh mis had everything you would want from a sandwich. A crispy but fluffy bread, hearty pork in different forms, savoury pâté, fresh cucumbers and radishes, spicy chillies, aromatic herbs, an egg, and the special Umami kick you can only get out of fish sauce.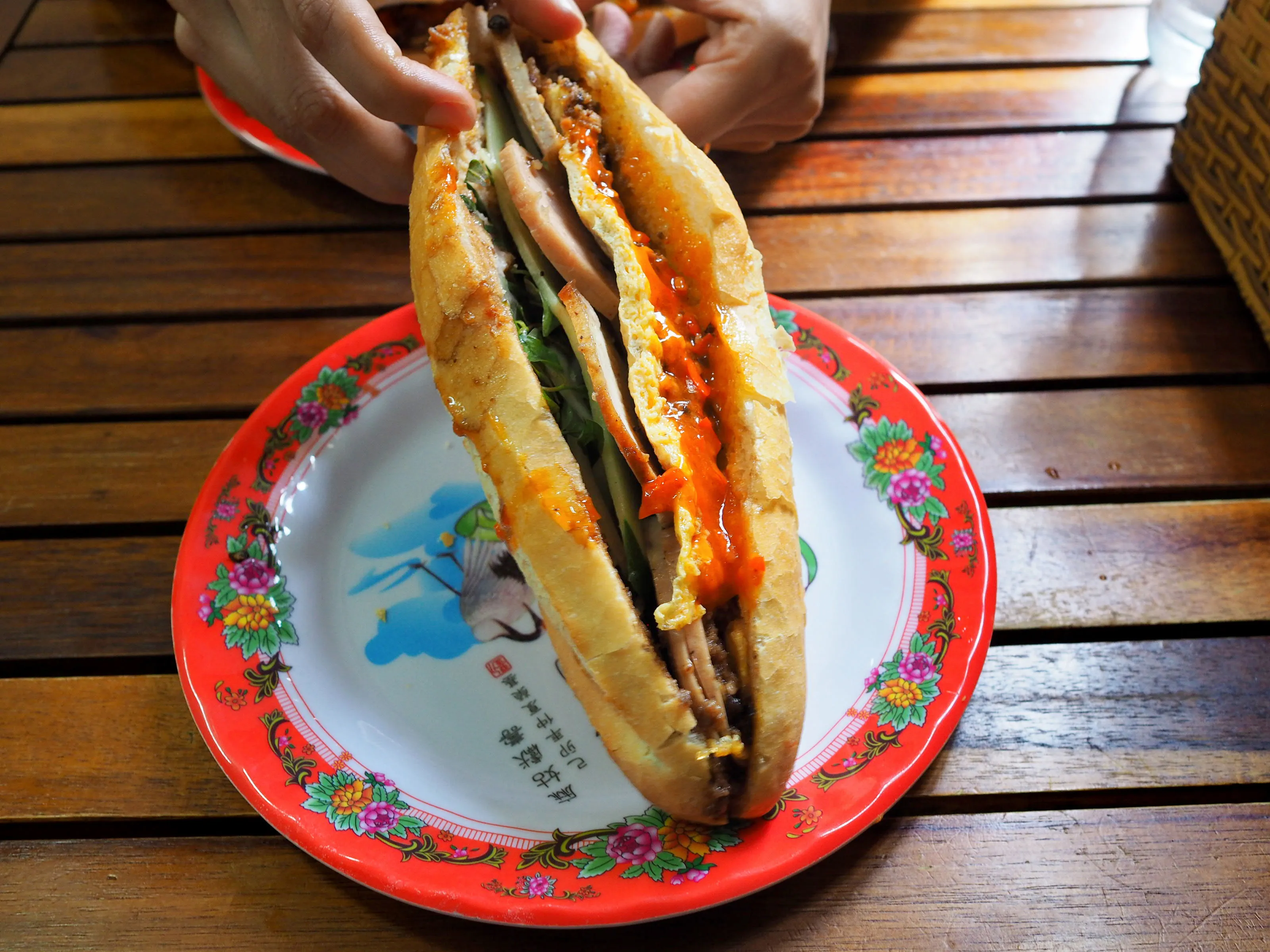 A history of fusion
Bánh mì translates to bread in Vietnamese and means the baguette that the colonial oppressors from France introduced to Vietnam after they invaded the country in 1862. The French established their colonial regime, determined to keep up illusions of French superiority over "natives" even in food. Up until Vietnamese independence and the forced partition in 1954, baguettes were eaten in the french style, with butter or pâté.
After defeating the French and forcing them to leave, the people took the liberty to make banh mi an iconic Vietnamese dish adapted to the people's taste rather than catering to a ruling European born minority. Inthe process, a truly great sandwich was born. (Read more on the history of banh mi here and on wikipedia.)
They began to use different proteins from varieties of pork to chicken and tofu. But more importantly, they used fresh aromatic herbs, chillies and fish sauce to elevate the boring cold cuts and pâté sandwiches. The other banh mi heavyweight in town
Banh Mi Khanh is not the only famed banh mi place in Hoi An. A couple of minutes by foot is Bánh Mì Phượng, which has the endorsement of none other than the late titan of travelling for food, Anthony Bourdain.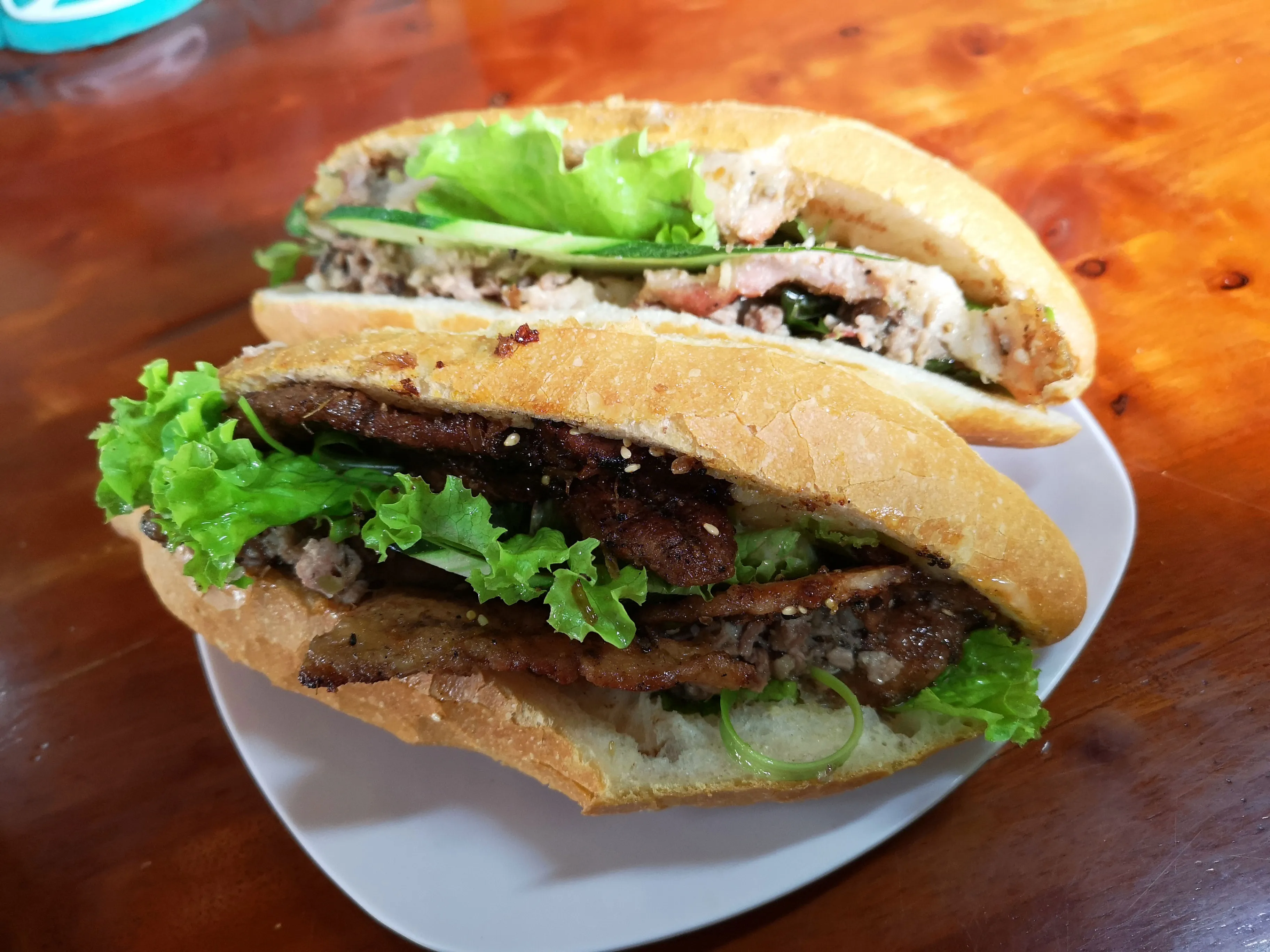 When we went to Banh Mi Phuong, it was way past lunch hour, but there was still a line. We walked past the exhausted servers and onto the 1st floor of the restaurant where we found an empty table. The menu of Banh Mi Phuong is extensive. They offer many different fillings for the banh mi.
I opted for the grilled pork belly, while Ana ordered the barbecue pork one. Both were fantastic. The bread was fluffy and crispy and the filling savoury and juicy. There is definitely a reason why Banh Mi Phuong is so popular and it is not only because Tony Bourdain filmed a scene here.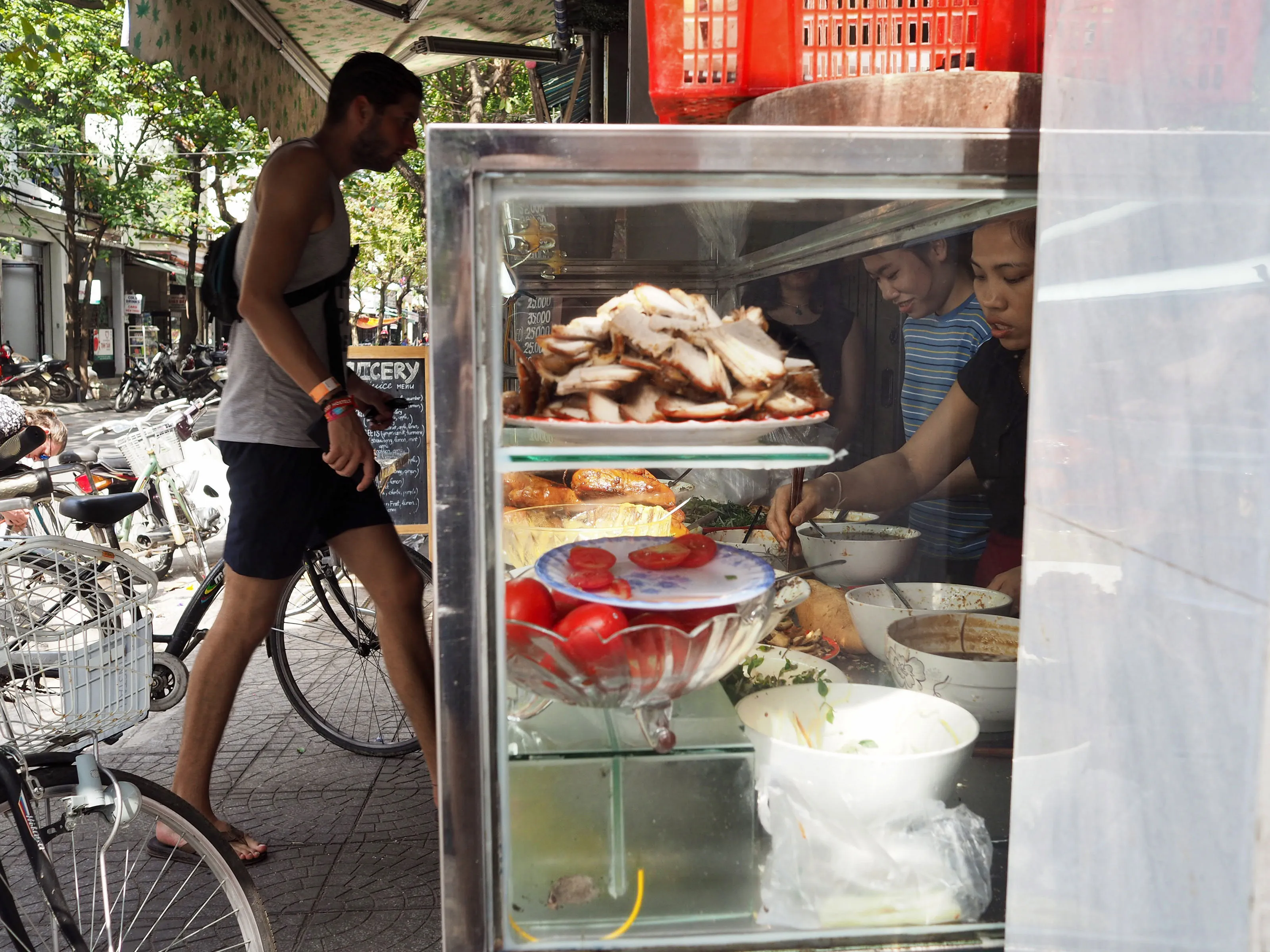 Our addiction
In the days that we spent in An Bang village, a short bicycle ride away from Hoi An, we made it our habit to eat banh mi as our second lunch, as both Banh Mi Khanh and Banh Mi Phuong were extremely delicious. We even contemplated stopping at Banh Mi Phuong on our way to Da Nang's train station and getting takeaway sandwiches to eat on the train. It was only when we realised that we would be risking missing the train over a couple of sandwiches that we fully dropped the idea.
Banh Mi Khanh and Banh Mi Phuong are the most popular places to eat banh mi among travelers who come to Hoi An. If you look for either of them on the internet, you will find countless Vlogs that make it a "best banh mi" contest between the two.
But the reality is that they are both great. If you are lucky enough to travel through Hoi An, you should definitely check both out. Moreover, I am pretty sure that there are countless other amazing banh mi vendors in the town that do not get as much attention on social media and google maps as Banh Mi Khanh and Banh Mi Phuong. So I would say that it is simply a delight to eat banh mi in Hoi An!