How to travel Oman
We spent the last week of December in the Sultanate of Oman, drawn by its fascinating history and its varied landscapes, which include mountains, beaches, and sand dunes. Budget-wise, the country has a reputation as an expensive destination. But we managed to travel the country without plundering our bank accounts. Here is how
Before going to Oman, I had heard the same story over and over again: Oman is awesome. But it is super expensive. Hotels are not cheap. Day trips and package tours cost a pretty penny. And taxis quickly deplete even generous budgets.
After weighing the pros and cons, we decided to visit anyway. We traveled for one week between Christmas and New Years. And by avoiding guided tours, taxis, and 4-star resorts, we managed to enjoy the wonders of Oman without breaking the bank.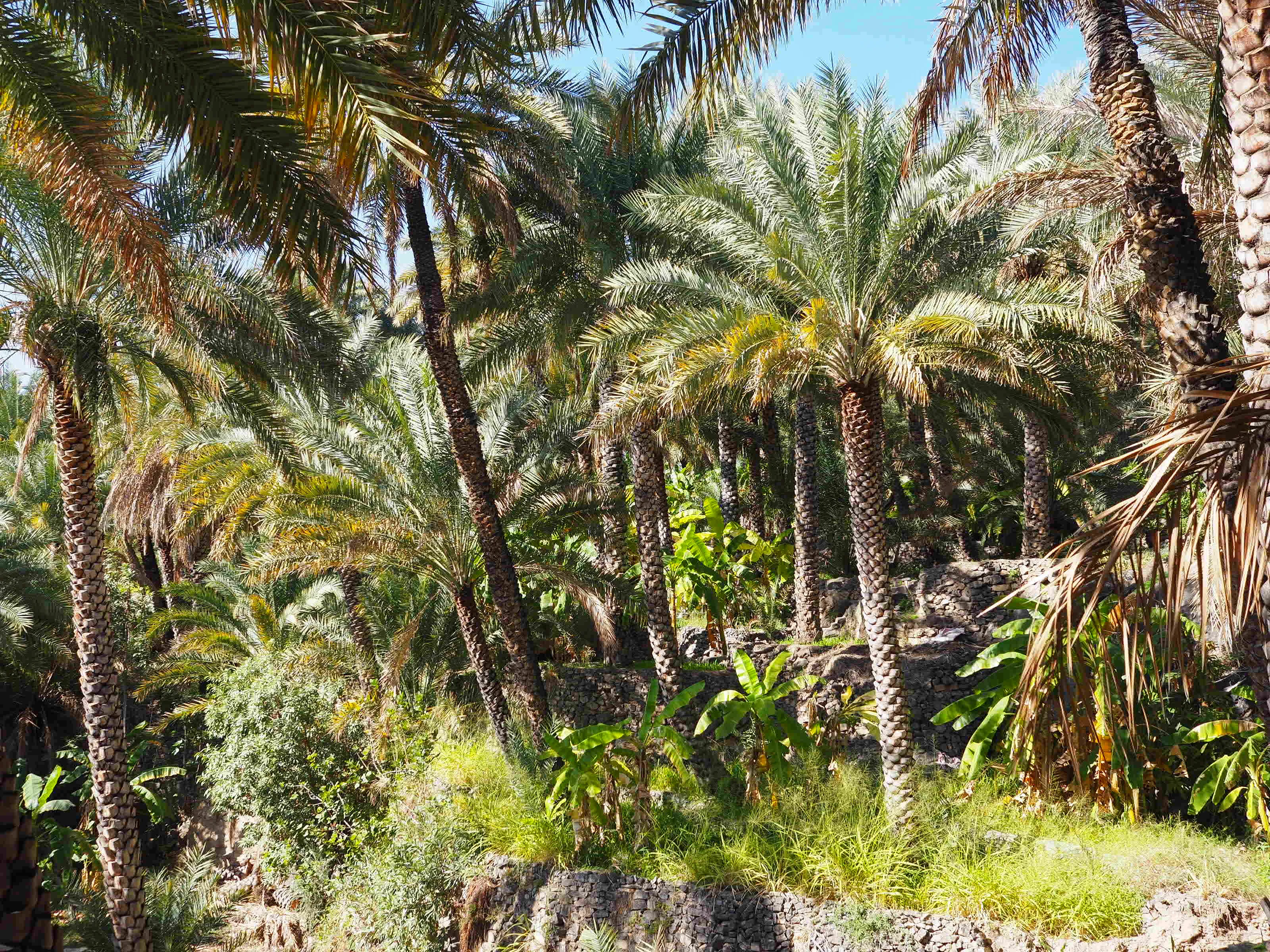 Where we went
During our week in Oman, we stuck to the well beaten tourist triangle. From the capital Muscat, we went to Sur. After Sur, we went to the desert, then north to Nizwa and back to Muscat.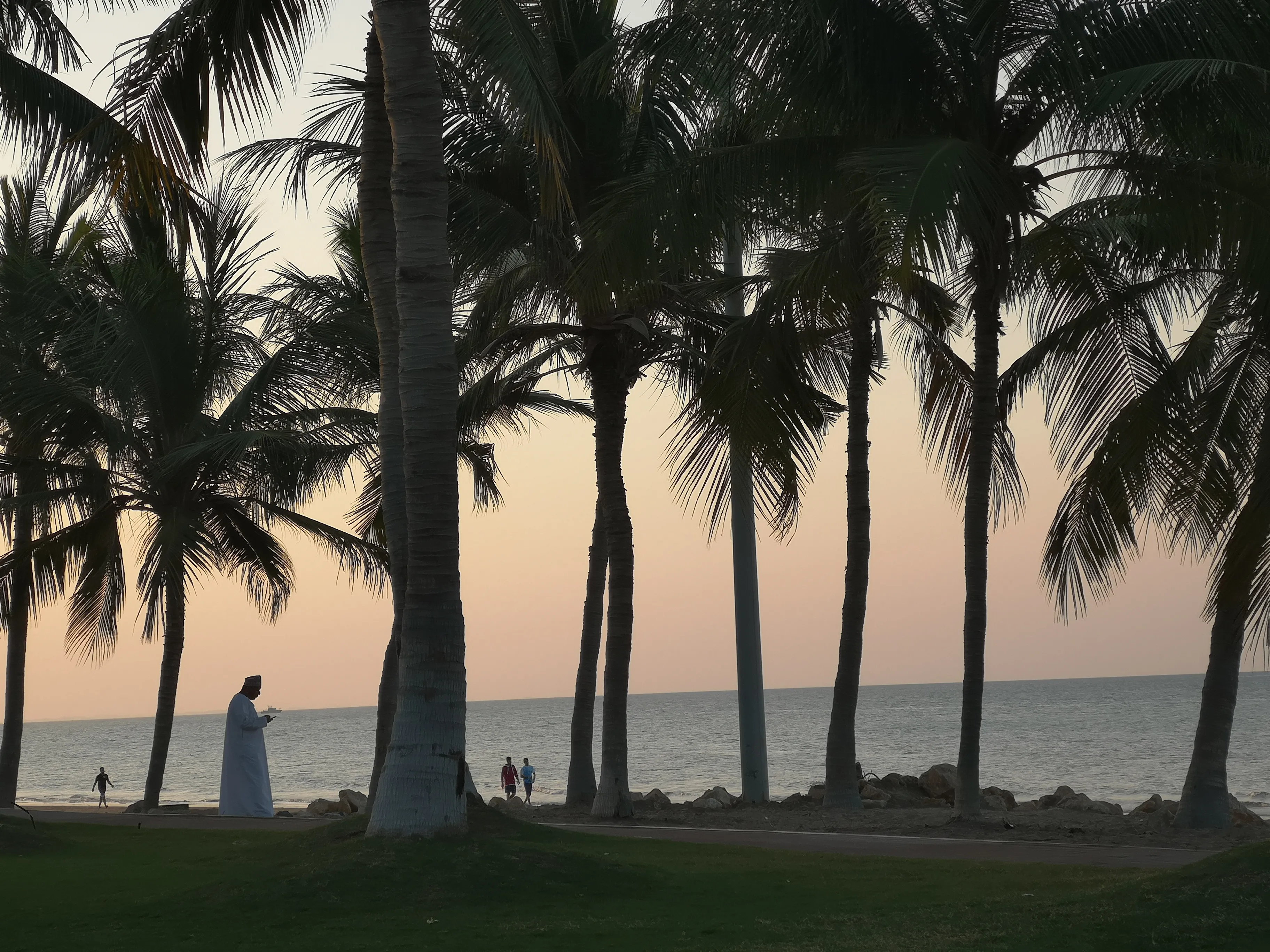 Along the way, we swam in the crystal clear water of wadis, hiked through deep-sided canyons, gazed over the stormy sea, and simply enjoyed a relaxing week in a hospitable country.
How to get around
Oman has rather limited public transport compared to other countries. The whole time we were there, we saw exactly one bus. Depending on public transport to get around also limits you to the cities. But you will miss out on Oman's principal charm — its dramatic landscapes.
To get around Oman, we decided to book a rental car. In our opinion, this is the best way to travel around the country for a short one-week trip like ours. By skipping the tailored tours and the chauffeured Landcruisers, you save (a lot!) money and remain in control over your own schedule.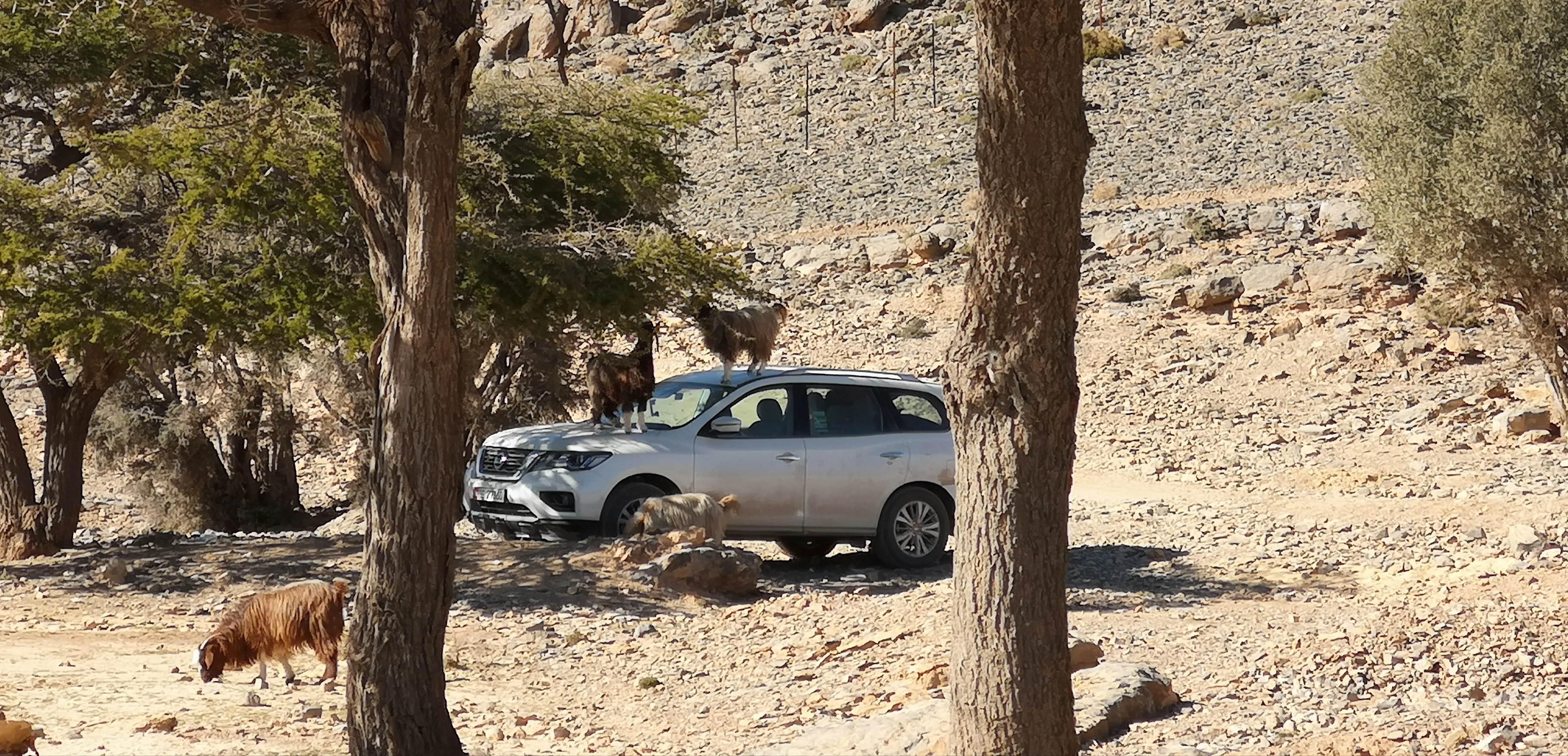 Even for travel within the cities, organizing your own transport seems to be the way to go. While we did not take taxis while we were in Oman, our friends who did told me that they were expensive and each ride comes with a lengthy negotiating process. Moreover, cities in Oman are sprawled out, which means trip fares quickly add up.
We picked up our booked rental car directly from the Muscat airport. Dollar was the cheapest option we found online — USD 180 for 8 days for an economy car. They upgraded us to a sparkling new Toyota Yaris.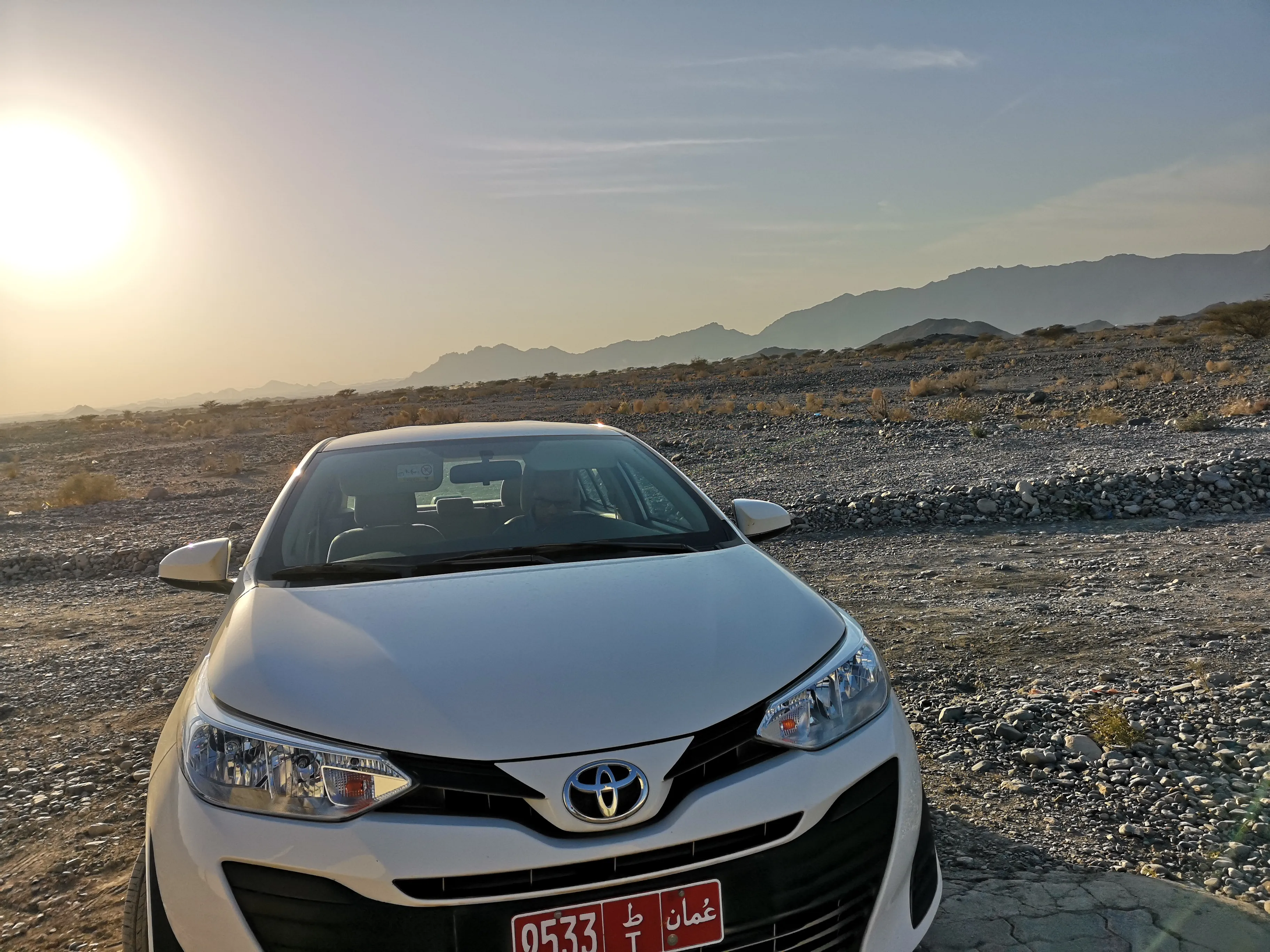 Driving in Oman is easy enough except for the capital Muscat. Muscat is very stretched out and is basically several cities that are connected by motorways with a lot of traffic. We were often confused by the Google Maps navigator - it never replicates the names of the freeway exits written on signs.
Outside the capital, though, driving is very relaxed. The roads are either six lane highways or well paved roads. Renting a saloon car is sufficient for Oman. We even made it to the top of Jebel Shams with our Yaris, which involves a stretch of unpaved mountain road.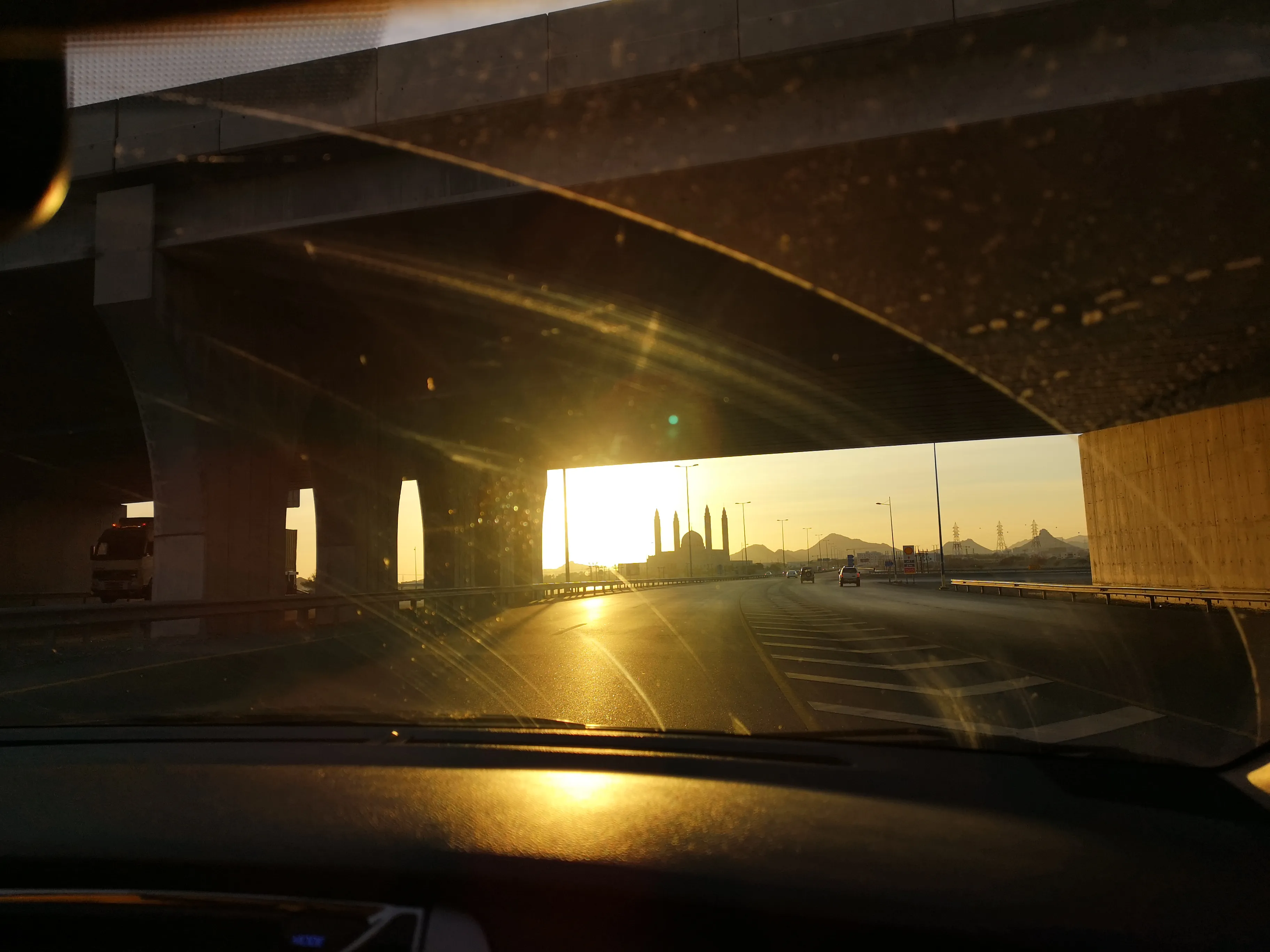 Being an oil producing country, gas is extremely cheap in Oman. We paid about 50 cents per litre, which is next to nothing if, like us, you are used to European gas prices.
Where to eat
Food can be extremely expensive in Oman, but it can also be very cheap. We found that the best food we had during our trip was in small restaurants - which were often South Indian, Lebanese, and Pakistani restaurants.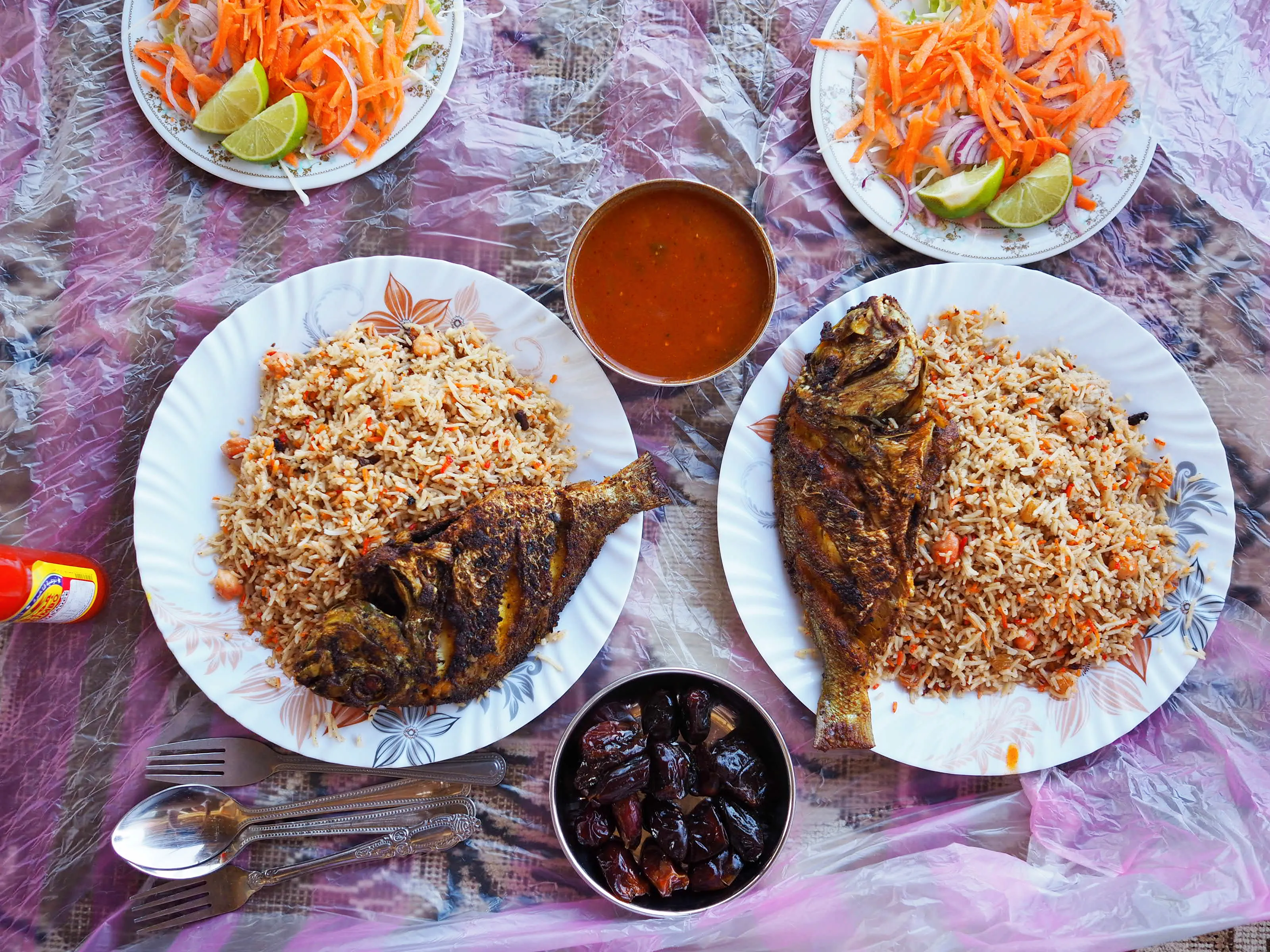 But even Omani restaurants can be very good value. In Sur, we had two grilled fish on a mountain of the Omani version of biryani, which is more like the Persian pilaf and has spices, cooked vegetables and raisins, for USD 10.
Where to stay
Accommodation can quickly run up your travel costs in Oman. However, with some research online, either on one of the hotel booking sites or Airbnb, we easily found some good deals. Budget hotels in Oman like the popular Sur Hotel in Sur are simple but very clean.
The only accommodation that was not good value was the Bahla Hotel in Bahla, but at the time of booking, it was really pretty much the only acceptable option available. We would definitely recommend to stay in Misfah or Al-Hamra instead, although both towns are more touristy and pricier.
Our most expensive stay was at Al-Reem Desert Camp. It was a well run camp and we enjoyed our night at the edge of the desert. We chose Al-Reem because it was accessible with our rental car on a little sand path not far off the asphalt road. You can book other camps deeper in the desert, however, they will cost you more as you have to organize pick-up from the highway. However, they might also offer you a more magical experience. In the end, it depends on your preferences.
Our highlights
What did we like most? Hiking Wadi Shab and Wadi Bani Khalid was definitely one of our highlights. While the Wadis do not have entry fees, for Wadi Shab, you need to pay Rial 1 per person for a short boat crossing. After that, the hike is easy and well marked. Walking in the gorge of the Wadi alongside a stream of crystal clear water and between palms was an experience of a lifetime.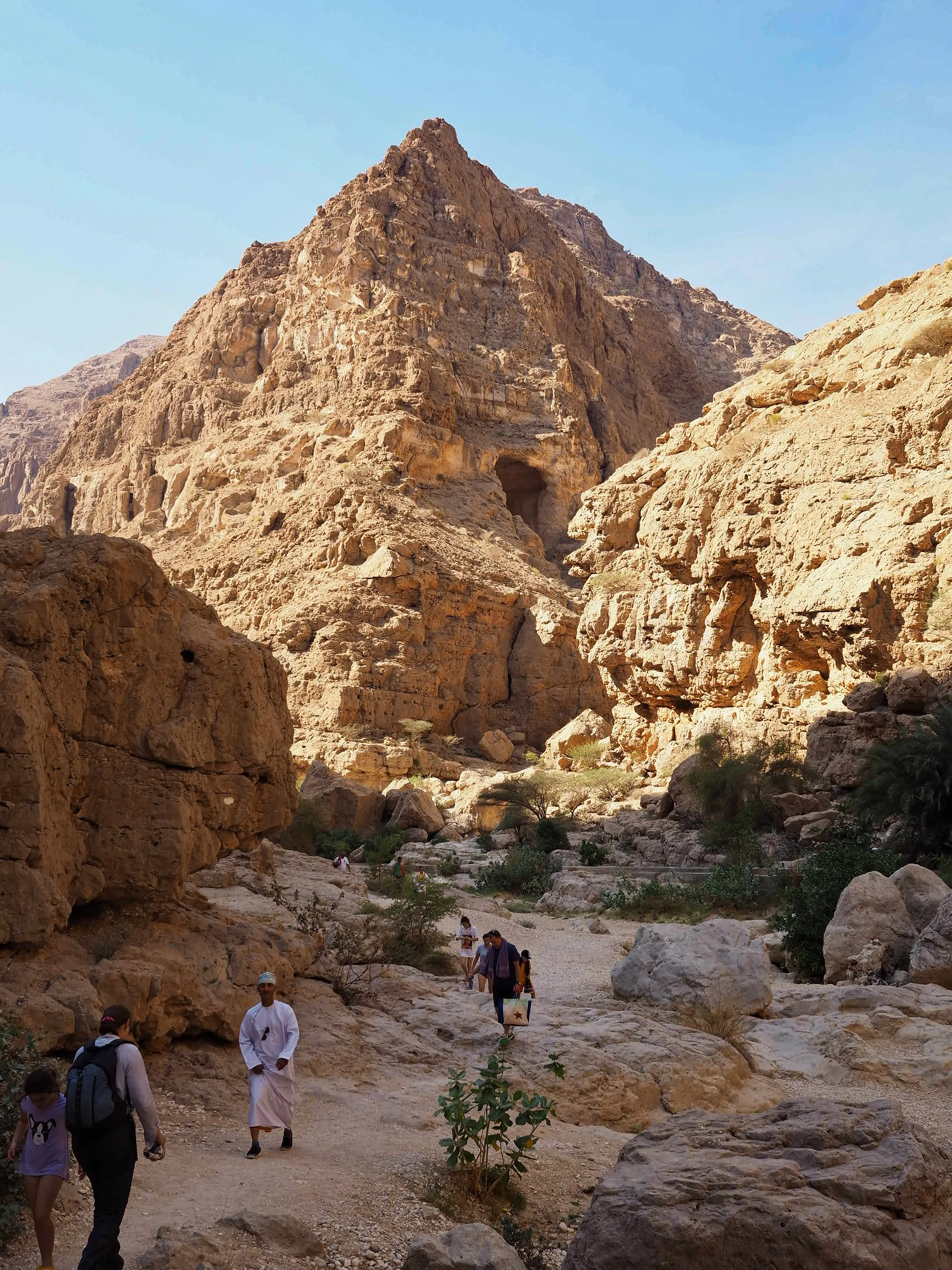 We also loved just how relaxed Oman was. The people are generally very nice and hospitable and everything seems to go at a more relaxed pace. The country works to maintain its traditions while embracing modernity and has conserved its forts and old oasis towns well. It is a somewhat magical atmosphere.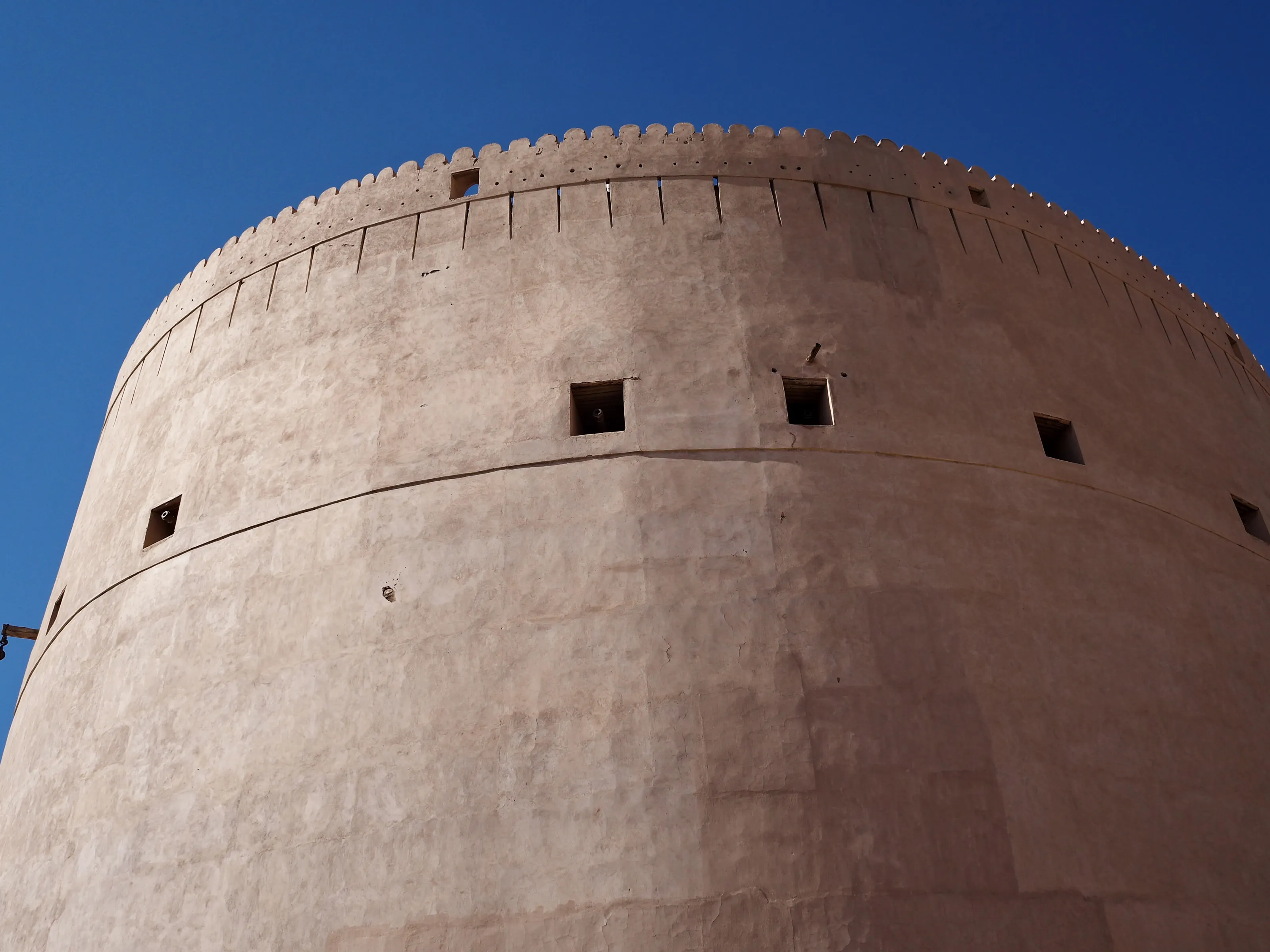 That magical atmosphere takes you at times into the realm of fantastical stories from bygone times or times that may never have existed. In the port of Sur, allegedly the home of Sindbad, old dhows still dock in the harbour.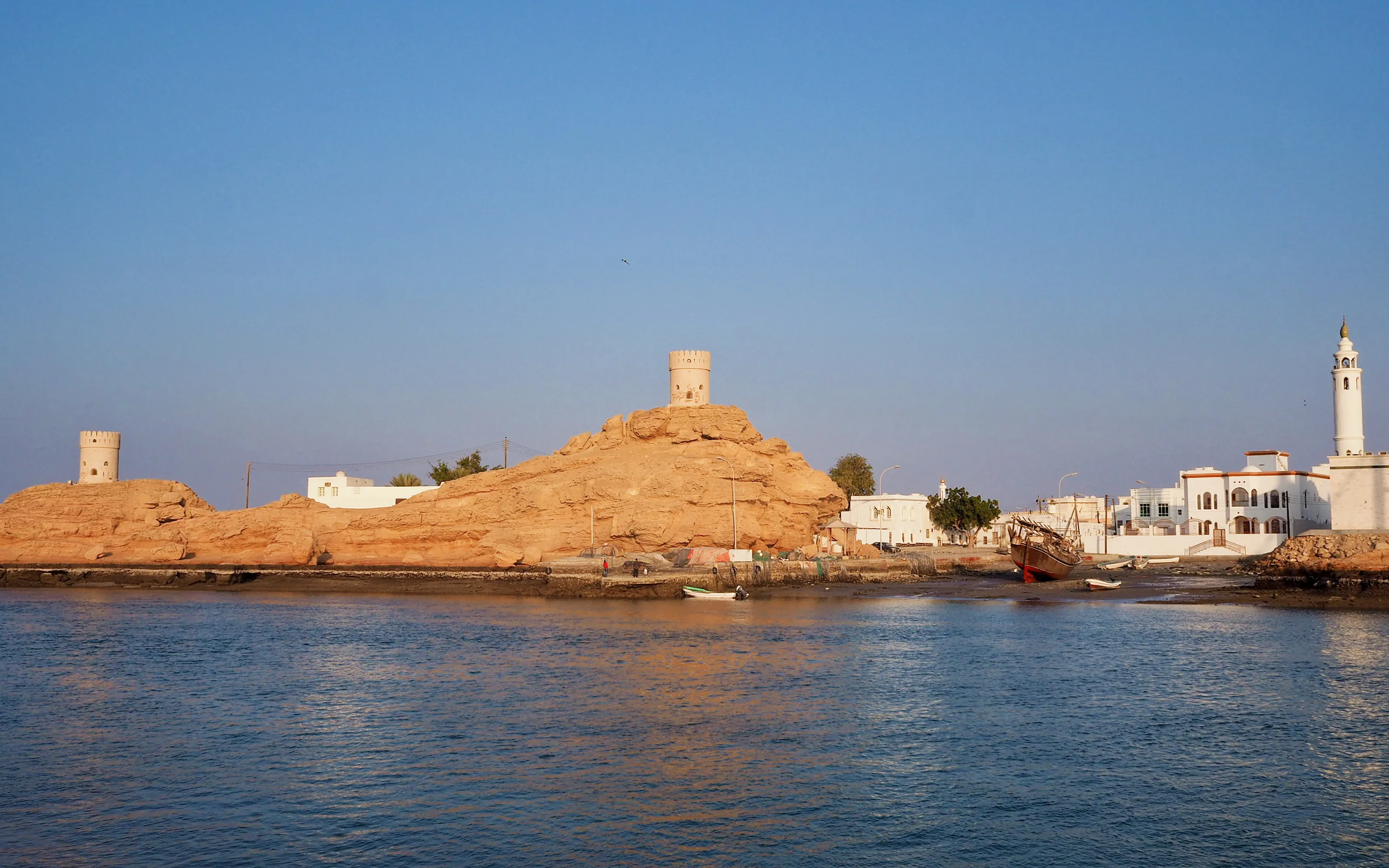 How to get there
You can get to Oman by air with Muscat being a modern and fairly busy airport. You can also come to Oman overland by car and bus from the UAE.